Facebook Connect
Client: TheTicketSellers

TheTicketSellers are an on-line ticketing agency who have been in the business of selling tickets since 1998. They sell tickets for a wide variety of events including student events, festivals, concerts, club nights, exhibitions, cinema and sports events.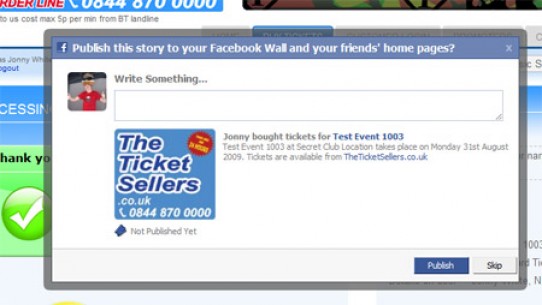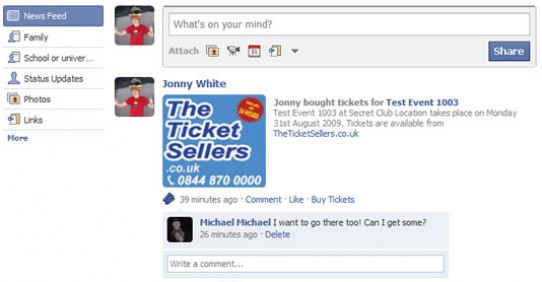 Requirements
As the majority of the tickets they sell are for social events, TheTicketSellers were looking for ways to maximise potential on the social networking website Facebook.
Solution
When customers of TheTicketSellers purchase tickets they now have the option of posting the details to their Facebook profile, allowing friends to see what event they are going to and giving them a link to buy tickets.
This adds value for the customer because they can easily let their friends know about the event and encourage them to come along. It allows TheTicketSellers to reach their customers friends in a helpful and non intrusive way.
Friends can then comment on the post which goes even further to create hype and awareness for the event.
Here's how it works:
After a customer has compoleted their order they can "Connect" with facebook and publish the story.
The story features on their profile page and in their friends' news feeds. Friends can comment on the post.
Facebook Connect is a fantastic example of how social networking can be used effectively in business.