Website Build and CMS Integration
Client: Shambala Festival

Shambala Festival is a creative, non-commercial, family-friendly festival which takes place late Summer each year.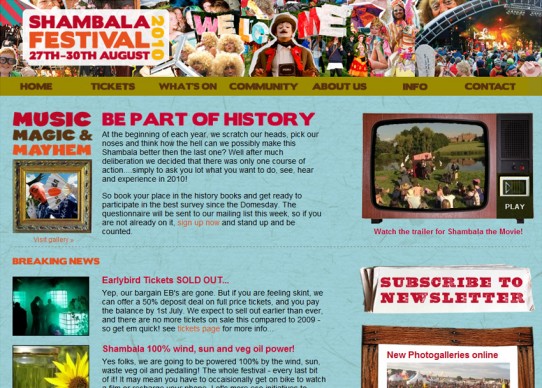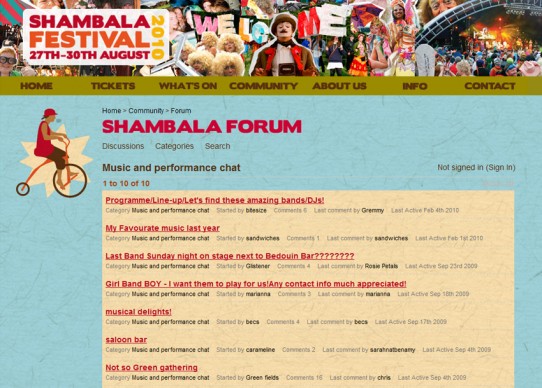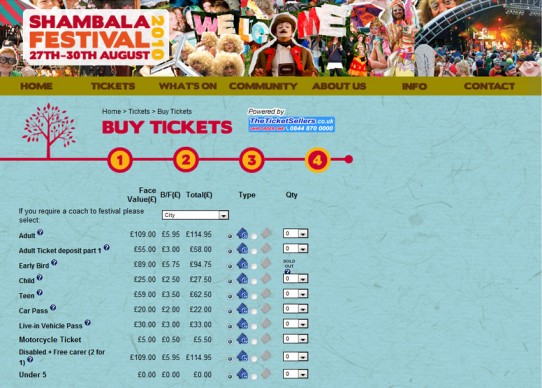 Requirements
Shambala Festival required a web development team that could:
work alongside their graphic designer to make their designs a web reality,
provide consultation for new ideas,
be on the phone when they need support, and
manage their newsletter and email accounts.
In 2009 the Shambala website needed a complete overhaul. The website needed to have a forum, a series of photo and video galleries, a carbon offsetting tool and they needed to be able to manage all the content themselves.
Solution
Initially we transformed the excellent designs into search engine friendly HTML / CSS and integrated the Zimma Content Management System (CMS). The CMS allows Shambala Festival to keep the website up to date themselves.
The Flickr / Spry photo gallery
Over the years, Shambalians have added their photos to the Shambala flickr groups and this makes up the Shambala photo gallery. You can select a year, photographer or highlight and the relevant photos will be pulled in from flickr.
Some of the galleries contain hundreds of photos and to make this more manageable we've integrated the Spry Ajax framework. Using this we could paginate the gallery results, add some neat transitions between gallery pages but best of all, hold off loading the full set of images and load each page as it is viewed saving on bandwidth and load times. Click here to see it in action.
The Shambala community forum
For the forum we customised a vanilla forum which has done the job perfectly and in particular, it's the simplicity that lots of people like.
Carbon offset calculator
Winners of the "Most sustainable event of 2008″ and the "Outstanding Green Award" last year, the festival is very conscious of it's carbon footprint. This year they have introduced a carbon offset calculator that Zimma built and integrated into the buying process. A customer only needs to enter their postcode and it calculates an estimated amount of CO2 based on their distance form the festival. You can read more about how they are using the money here: http://shambalafestival.org/about-us/sustainability/#offsetting-your-travel-explained
--
Zimma have also developed a crew ticket management system for the festival in conjunction with TheTicketSellers.